Martavis Bryant Reportedly Drawing Trade Interest from Contenders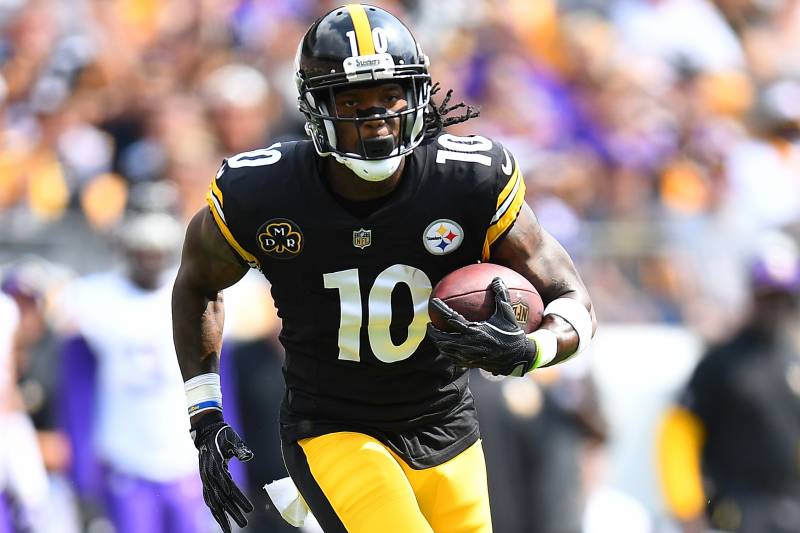 Joe Sargent/Getty Images
Multiple contending teams have reportedly inquired about Pittsburgh Steelersdisgruntled wide receiver Martavis Bryant, including the New England Patriots, according to Ian Rapoport of NFL.com.
Bryant, who has been unhappy with his role in Pittsburgh's offense, requested a trade last week. But the Steelers have not agreed to trade him to this point and reportedly "won't let a player force his way out," per Rapoport.
It's the latest twist in what has become a major saga in Pittsburgh over the past week.
Last Sunday, Bryant wrote and then deleted a comment on Instagram saying rookie Steelers receiver JuJu Smith-Schuster wasn't better than him. He then missed Monday's practice after reportedly meeting with a doctor.
On Tuesday, Bryant publicly made his desire to be trade known, per Josina Anderson of ESPN:
#Steelers WR Martavis Bryant to me: "If they don't try to include me more and continue to do the same thing, then I want out period." [Cont]
#Steelers WR Martavis Bryant to me: "I just want to be happy..I would like for it to be here, but if not then oh well. Just got to move on."
That same day, however, head coach Mike Tomlin stated the team had no intention of trading the wideout, according to Adam Schefter of ESPN.
The team did take action, however, relegating Bryant to scout-team duty during practice this past week and making him inactive for Sunday's game against the Detroit Lions.
It isn't surprising teams would at least inquire about Bryant. While suspension issues have cost him playing time, he's been a big-play threat when he's been on the field, catching 76 passes for 1,314 yards and 14 touchdowns in 21 games between the 2015 and '16 seasons.
While he's second on the Steelers in receiving yards (234) and third in receptions (18) and targets (36), he clearly has grown unhappy with his role on the team. After sticking by Bryant through his two previous suspensions, however, the Steelers seem disinclined to move the unhappy wideout or cave in to his trade demands.