Catalonia referendum defies Spanish obstruction
A nation, a Spanish region, an aspiring independent state: however you define it, Catalonia has become a byword in Spain for controversy and political conflict.
Now, the deadlock between Catalonia's devolved government, which wants independence, and Spain's central government, which has always ruled out a vote on the issue, has reached a critical moment.
There is the surreal.
Tweetie Pie, the yellow Warner Bros cartoon bird known here as Piolín, adorns a cruise ship parked in Barcelona port. There are no tourists on board the huge floating hotel, just thousands of national Spanish police.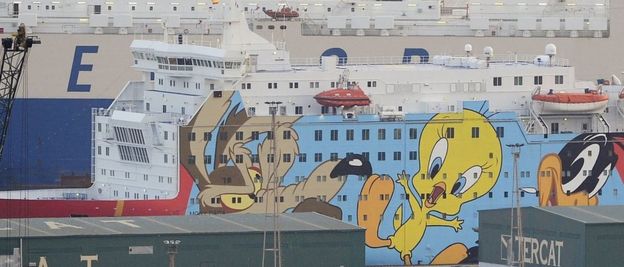 But there is an underlying and deadly serious message, too.
The boat's occupants are the guardians of Spanish territorial integrity. No-one questions where their loyalties lie.
Then there is the confusing.
Catalonia's government, or Generalitat as it is known locally, promises the vote will happen. However, a proper election campaign has been strikingly absent.
With children back at home for the weekend will schools quickly turn into voting stations, or will they remain closed?
And there is the downright baffling.
Catalonia's own police force, Mossos d'Esquadra, in theory should – if they follow the letter of Spanish law – work alongside national Spanish police and stop the vote from happening.
But it is the Mossos' colleagues and friends at the Generalitat who are keeping the pro-independence dream of a referendum alive.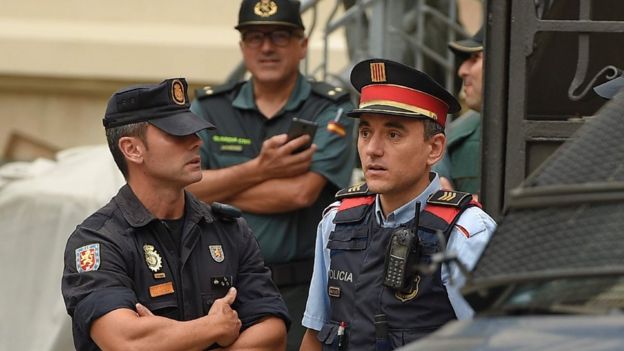 Catalan police are stuck between a rock of Spanish court orders to stop the vote and a hard place of Catalan nationalist desires for it to go ahead.
If police physically stop people from voting, will this maintain public order or encourage trouble on the streets?
Fearing a backlash, the Spanish government has stopped short of suspending the powers of the Catalan government. But it has tightened its grip on Catalonia's finances.