The Asylum is Launching a Cheap, Bad Movie Series at Cinemark Theaters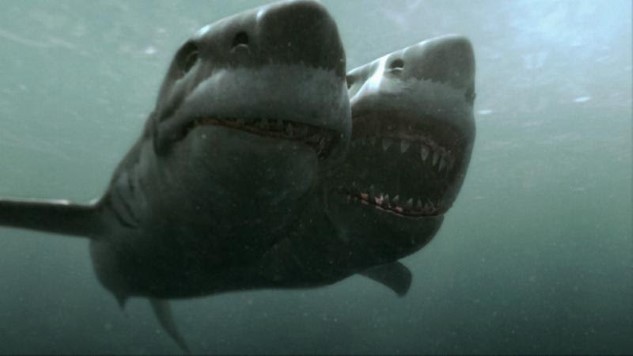 Today in bad movie news: The Asylum is going theatrical! Yes, the makers of everything from the popular Sharknado series to mockbusters such as Transmorphers or monster movies such as Sharktopus will be taking a theatrical bow this fall, with "Thursday Nights at the Asylum." Partnering with Cinemark Theaters, the studio will be releasing some of its more infamous creations into theaters for a series of one-night-only screenings. First up: 2012's 2-Headed Shark Attack, which screens in select theaters nationwide at 10:30 p.m. EST on Thursday, Sept. 28. Tickets are cheap: Just $5 a pop, or $10 if you want to take home a digital download of the film you're watching.
Most of these films have been distinctly of the "direct to VOD" or "premiered on SyFy" variety, so for the majority this will likely qualify as their big screen debuts. Future installments will include the dubious likes of Zoombies, a film about zombified zoo attractions, and Zombie Spring Breakers, which is … well, pretty much what it sounds like. It all builds up to the latest Sharknado entry, Sharknado 5: Global Swarming on Thursday, Nov. 16, which sadly wasn't our cup of tea when we watched it for the August premiere.
2-Headed Shark Attack, on the other hand, makes a natural bedfellow with the Sharknados of the world, although it was made a year before The Asylum and SyFy first struck gold by combining the concepts of "shark movie" and "natural disaster movie." The film stars Carmen Electra, Brooke Hogan (the Hulkster's daughter, in her only significant film role) and Charlie O'Connell as people who battle … well once again, do we really have to say it? Says the tagline:
When a college educational ship is sunk by a mutated two-headed shark, the survivors escape to a deserted atoll. But when it starts flooding, the coeds are no longer safe from the double jaws of the monster.
Uh huh, sounds about right. If you enjoy a nice bit of dreck like we do, you can find tickets for any of the Thursday Nights at the Asylum right here. Also below: A full list of all the theaters screening 2-Headed Shark Attack.
Movies 16 + XD (Lubbock, TX)
Hollywood 17 (Mcallen, TX)
College Station + XD (College Station, TX)
Tinseltown 17 (Erie, PA)
Cinemark Movies 16 + XD (Somerdale, NJ)
Movies 14 (Mishawaka, IN)
Cinemark Tinseltown 17 + XD (Grapevine, TX)
Tinseltown 20 + XD (El Paso, TX)
Tinseltown 20 + XD (Pflugerville, TX)
Cinemark Tinseltown + XD (Louisville, KY)
Tinseltown 14 (Oak Ridge, TN)
Tinseltown 14 (Pueblo, CO)
Legacy 24 + XD (Plano, TX)
Cinemark Tinseltown 20 + XD (Oklahoma City, OK)
Cinemark Tinseltown 20 + XD (Merriam, KS)
Tinseltown 20 + XD (Jacksonville, FL)
Tinseltown 17 (Fayetteville, GA)
Cinemark 17 + IMAX (Tulsa, OK)
Cinemark 19 + XD (Katy, TX)
Tinseltown 14 (Bristol, VA)
Moosic 20 + XD (Moosic, PA)
Valley View 24 + XD (Valley View, OH)
Cinemark Orlando + XD (Orlando, FL)
Cinemark 24 + XD (West Jordan, UT)
Cinemark 18 + XD (Webster, TX)
Carefree Circle 16 + IMAX (Colorado Springs, CO)
Cinemark 16 (Fort Collins, CO)
Cinemark 15 + XD (Hadley, MA)
Cinemark 14 @ The Pike + XD (Long Beach, CA)
Cinemark 14 + XD (Lake Charles, LA)
Pittsburgh Mills Mall 18 + IMAX (Tarentum, PA)
Cinemark 16 (Mesa, AZ)
Cinemark Perkins Rowe + XD (Baton Rouge, LA)
Cinemark Fayette Mall 16 + XD (Lexington, KY)
Mountain View Cinema 16 (Mountain View, CA)
Albuquerque Rio 24 + XD (Albuquerque, NM)
Orange Stadium Promenade 25 + XD (Orange, CA)
Century Parklane (Reno, NV)
Portland Eastport Plaza (Portland, OR)
Anchorage 16 + XD (Anchorage, AK)
Century El Con + XD (Tucson, AZ)
Evanston 18 + XD (Evanston, IL)
Las Vegas Samstown 18 (Las Vegas, NV)
Century Walnut Creek 14 + XD (Walnut Creek, CA)
Sacramento Greenback 16 + XD (Sacramento, CA)
San Jose Oakridge 20 + XD (San Jose, CA)
Century 16 Bel Mar + XD (Lakewood, CO)
W. Des Moines Jordan Creek + XD (West Des Moines, IA)
Huntington Beach Bella Terra 20 + XD (Huntington Beach, CA)
Las Vegas Santa Fe Station 16 + XD (Las Vegas, NV)
Sandy Union Heights 16 (Sandy, UT)
Century 16 (Boulder, CO)
Century Federal Way + XD (Federal Way, WA)
Century River Park 16 + XD (10/26) (Oxnard, CA)
Cinemark Robinson Township + XD (Robinson Township, PA)
Cinemark 14 (5/8) (Joliet, IL)
Cinemark 12 (6/24) (Barboursville, WV)
Paradise 24 + XD (Davie, FL)
Egyptian 24 + XD (Hanover, MD)
Cinemark Farmington + XD (Farmington, UT)
Christiana + XD (Newark, DE)
Cinemark Oakley Station + XD (Cincinnati, OH)
Cinemark North Hills + XD (Pittsburgh, PA)
Colonel Glenn 18 + XD (Little Rock, AR)
Cinemark 18 and XD (Los Angeles, CA)
Buckland Hills 18 IMAX (Manchester, CT)
Preston Crossings 16 (Louisville, KY)
Flint West 14 (Flint, MI)
Ann Arbor 20 IMAX (Ypsilanti, MI)
Hazlet 12 (Hazlet, NJ)
Dayton South 16 + XD (West Carrollton, OH)
Milford 16 (Milford, OH)
Fallen Timbers 14 + XD (Maumee, OH)
Franklin Park 16 + XD (Toledo, OH)
Northeast Mall 18 + XD (Hurst, TX)
Cuyahoga Falls + XD (Cuyahoga Falls, OH)