New Zealand Economy Expands at Faster Pace as Election Looms
New Zealand's economy grew at a faster pace in the second quarter, buoyed by increased consumption and manufacturing, a report showed two days before a general election.
 Key Points
Gross domestic product gained 0.8% in the three months through June, matching economists' median forecast
The economy expanded 2.5% from a year earlier, also matching estimate
The kiwi dollar edged lower, buying 73.31 U.S. cents at 12:12 p.m. in Wellington from 73.60 cents immediately before the report
Growth is recovering slowly after two sluggish quarters, putting New Zealand on course for a ninth straight year of expansion just two days before voters go to the polls in the Sept. 23 election. While demand is being stoked by record-low interest rates and surging immigration, there are few signs that inflation pressures are building sufficiently for the Reserve Bank to change its forecast that borrowing costs will stay unchanged until 2019.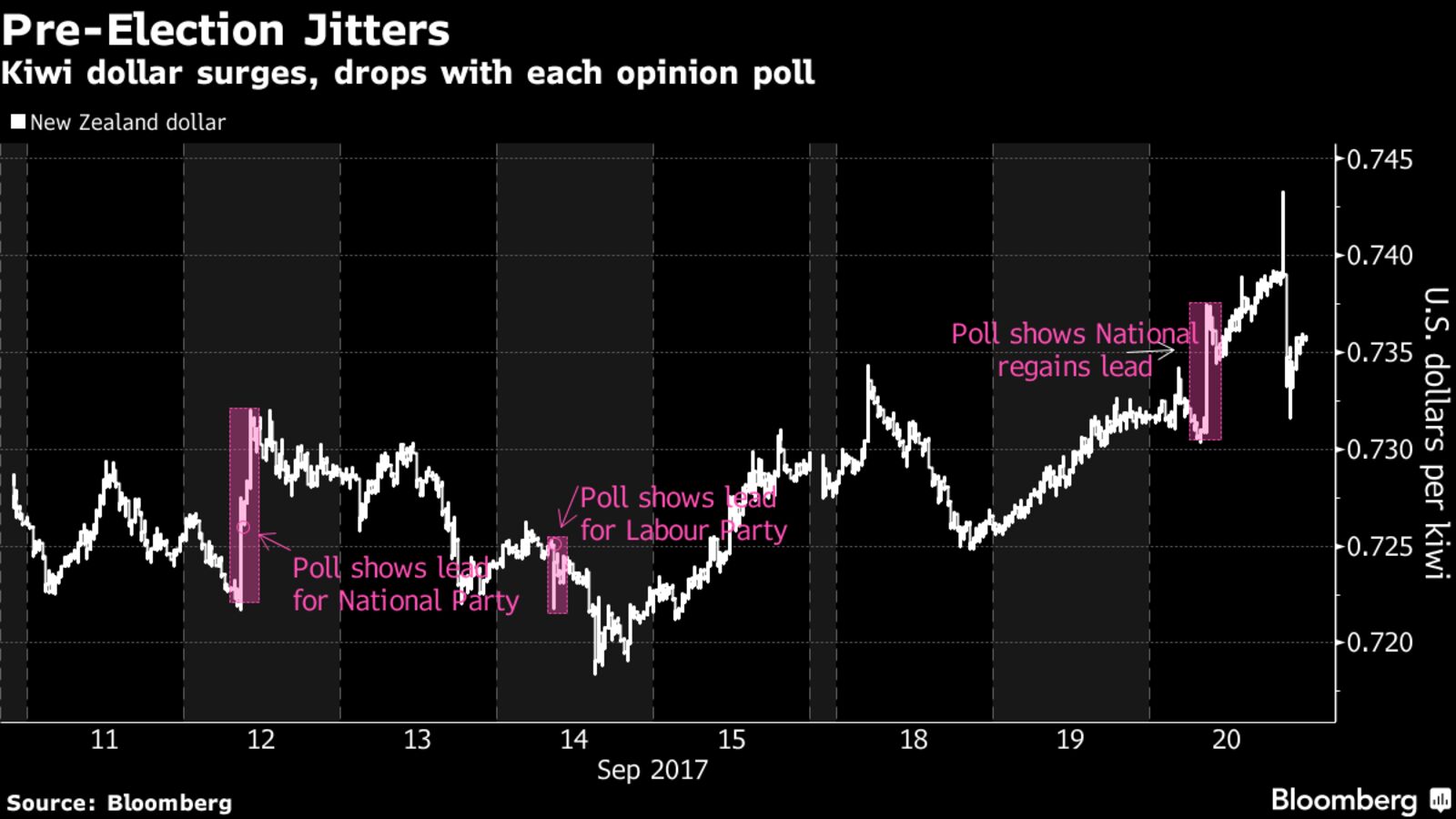 Economist Takeaways
Faster growth "won't prevent the RBNZ from leaving interest rates unchanged at next Thursday's policy meeting and striking a dovish tone too," said Paul Dales, chief Australia and New Zealand economist at Capital Economics in Sydney. "It may give National a bit of a boost ahead of Saturday's election."
"Economic growth needs to pick up on a sustained basis in order for the RBNZ to be confident domestic inflation pressures will return to target," said Nick Tuffley, chief economist at ASB Bank in Auckland. "While capacity constraints are evident in some sectors such as construction and parts of tourism, there is little evidence of capacity constraints or strong demand growth elsewhere in the economy."
"Growth barely at trend is hardly going to lift core inflation in a meaningful way," said Cameron Bagrie, chief economist at ANZ Bank New Zealand. "With forward indicators pointing to a further turn south in some pro-cyclical parts of the economy, and election and policy uncertainty raising the prospects of a growth air-pocket over the coming months, even maintaining trend growth is not guaranteed over the coming quarters."
Other Details
Primary industry production fell 0.8% amid a decline sheep and beef output, which offset a late-season lift in milk collection and increased logging
Manufacturing rose 1.8% on food and beverage processing
Construction fell for a second quarter, dropping 1.1%
Services, which make up more than two-thirds of the economy, expanded amid increased consumption associated with the British & Irish Lions rugby tour and the World Masters Games
Measured by spending, rather than output, GDP grew 1.1% from the first quarter
Exports of goods and services surged 5.2%, led by dairy shipments and foreign visitor spending
GDP per capita rose 0.3% after it was unchanged in the first quarter