Tom Brady sets a record, while other QBs struggle
At least for a week, let the whispers about the old guy stop.
While Cam Newton was being examined for an injury following a hit, Blake Bortles was making turnover after turnover after turnover and Mike Glennon was drawing social-media pleas that he be replaced by rookie Mitch Trubisky, Tom Brady was old dependable again.
The New England Patriots' 40-year-old QB, fresh off a season-opening stinker, looked like the five-time Super Bowl winner against the New Orleans Saints. Just how good was he? How about historically good?
[Tony Romo is really good at predicting plays before they happen on his CBS broadcast]
Well, he passed for three touchdowns in the first quarter for the first time in the 273 games of his career (including the playoffs), according to NFL Research.
Brady's day did take a turn in the third quarter, however, when Rob Gronkowski was pulled down by two defenders, twisting his surgically repaired back awkwardly. Gronk left the game, but was listed as questionable to return with a groin injury, not a back injury. His status was unknown following the game, but he said "I'm good" to ESPN reporter Mike Reiss.
As the Post's Mark Maske writes, while the Patriots proved reports of their demise were exaggerated, the injuries are starting to pile up for them.
[Predictions of the Patriots' demise were premature, but the injuries are piling up]
The Panthers' Newton brought back the dab briefly, but his game resembled the dismal lost season of 2016 more than the triumphant 2015 MVP-winning campaign. Newton had been sacked six times in three quarters and was blasted on two third-quarter plays, the last of which momentarily left him face down and in pain. He popped back up, though, and kept playing.
Bortles had a dismal day for the Jaguars, with two interceptions and a lost fumble. Glennon's two interceptions are likely to prompt calls for Trubisky, the second overall pick in the NFL draft.
View image on Twitter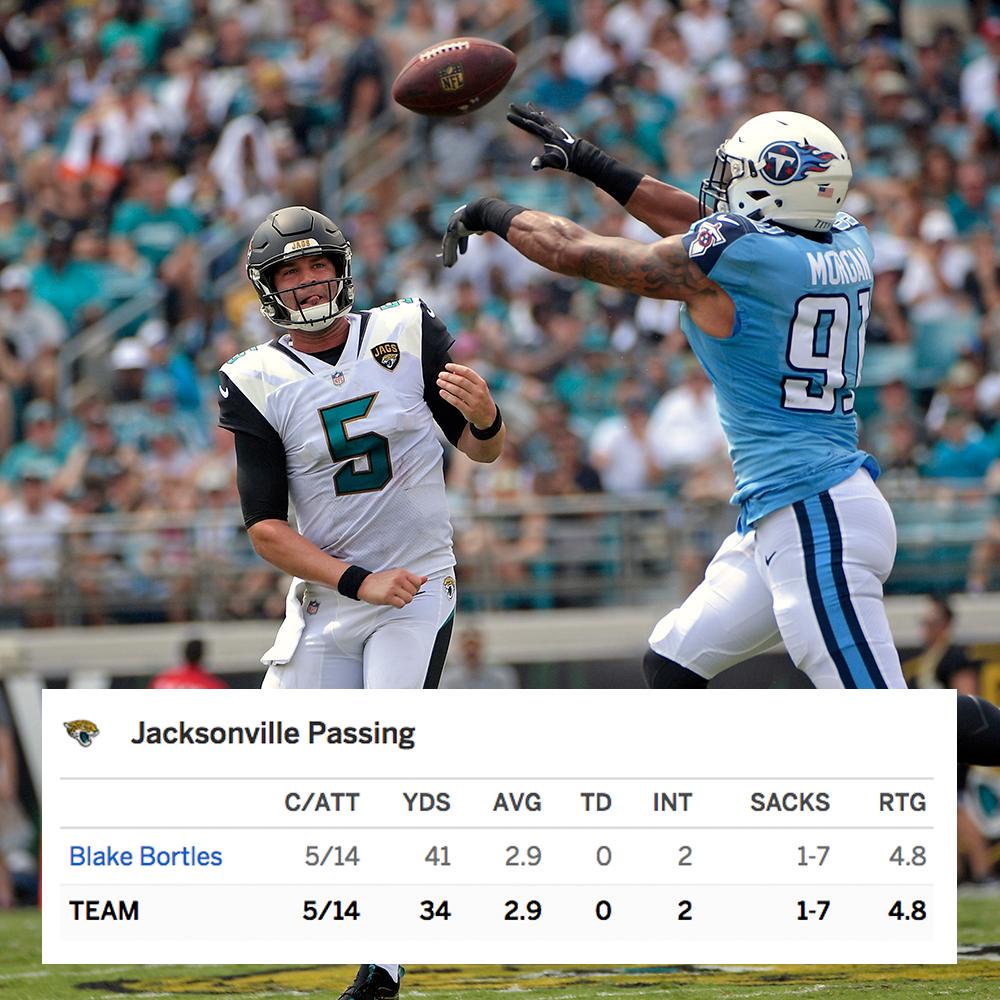 Dak Prescott criticized by Jason Garrett
Very little went right for the Cowboys during their visit to Denver, as Dallas took a 42-17 thrashing. After the game, Cowboys Coach Jason Garrett made specific mention of the struggles of quarterback Dak Prescott, who completed 30 of 50 passes for 238 yards, two touchdowns and two interceptions.
Prescott played poorly, and The Post's Adam Kilgore noted that the second-year quarterback "finally learned how hard it can be to play in the NFL." However, he had one of the most difficult assignments the league has to offer, traveling to Denver to take on the Broncos' elite pass defense, and Prescott got no help from the running game, as Ezekiel Elliott managed a minuscule eight yards on nine carries.
Antonio Gates sets touchdown record for tight ends
No NFL tight end has ever visited the end zone as often as Antonio Gates. With his 112th touchdown Sunday, the Chargers veteran moved ahead of a tie with Tony Gonzalez and now sits alone atop the all-time list for his position.
Gates set the record midway through the third quarter of a home game against the Dolphins, when he hauled in a pass from — who else? — quarterback Philip Rivers. That marked the 85th time that Gates and Rivers have connected for a score, the third-most for any NFL quarterback-receiver duo.
Gates, who played basketball while at Kent State, also caught his 900th pass during the game, making him just the 22nd player in NFL history with that many receptions. After Gonzalez, Gronkowski is third on the all-time tight end touchdown list with 69, followed by the Cowboys' Jason Witten (64).
Chargers fire off victory cannon — after losing game on missed field goal
Chargers kicker Younghoe Koo was wide right on a field goal attempt that, as it came with nine seconds left, essentially gave the visiting Dolphins a 19-17win. Perhaps the staff at the StubHub Center in Carson, Calif., where the Chargers played their first regular season game since moving north from San Diego, is still working out the kinks — or perhaps, as some suggested, they were temporarily fooled by the loud cheering from the large amount of Miami fans in attendance — but the victory cannon went off.
Koo had a field goal blocked last week that would have sent a game with the Broncos into overtime, so the rookie's NFL career has gotten off to a rough start. He is now just one of four on field-goal attempts.
Chris Carson emerges from Seahawks' muddled backfield
It's too early to say that the Seahawks have found their new bell cow back, but Chris Carson staked a strong claim Sunday, rushing for 93 yards on 20 carries in Seattle's 12-9 win over San Francisco. Thomas Rawls, coming back from an ankle injury that sidelined him in Week 1, got the start but gained just four yards on five carries, while Eddie Lacy wasn't even activated for the game.
The 5-foot-11, 218-pound Carson, a seventh-round pick out of Oklahoma State, got stronger as he went along. On the Seahawks' final drive, as they were trying to ice the game, he had carries of nine, 12 and 16 yards.
"I think we've got something," Seattle Coach Pete Carroll said of the rookie. "I think he's a really good football player."
Kareem Hunt stars for Chiefs, fantasy owners
In Kansas City, Chiefs running back Kareem Hunt has emerged as a full-fledged fantasy darling. The rookie, who rushed for 148 yards in the opener against New England, carved up Philadelphia on Sunday, scoring on two touchdown runs and rushing for 81 yards. One went for 53 yards and the other, well, it generated the best TD celebration of the day.
The Chiefs improved to 2-0 with a 27-20 win over the Eagles, after Philadelphia made things interesting with a late touchdown pass and an onside kick recovery, but Carson Wentz's Hail Mary pass attempt fell incomplete as time expired.
Case Keenum starts for Vikings in place of injured Sam Bradford
Meanwhile, in Pittsburgh, the Minnesota Vikings took a look at quarterback Sam Bradford on Sunday morning and decided he would not start against the Steelers because of a sore knee. Bradford was replaced by Case Keenum.
Knee soreness is nothing new for Bradford, of course, and the Vikings had hoped that he would be sidelined only for the first week of the season. However, the NFL Network's Ian Rapoport reported that Bradford's "MRI is hard to read because he has so much scar tissue" from previous procedures. However, the team believes that Bradford's anterior cruciate ligament "is still intact," according to the report.
Resting Bradford probably is smart, given that the Steelers defense had seven sacks in Week 1. His situation is one worth monitoring, given his history with serious knee injuries.
Uncertainty for Timmons, Dolphins
The long-term status of Miami Dolphins linebacker Lawrence Timmons is uncertain after the veteran defensive player went missing Saturday.
The Dolphins, with what was supposed to be their season opener postponed to November because of Hurricane Irma, relocated to California ahead of Sunday's game against the Chargers and, on Saturday, the team was unable to locate him. Although he was accounted for Sunday, he was listed as inactive ahead of the 4:05 p.m. EDT kickoff. Timmons had started 101 consecutive NFL games.
Chargers welcomed by sparse crowd at StubHub Center
The Chargers played their first game in Los Angeles on Sunday, at the 27,000-seat StubHub Center. The early images show that the size of the crowd was less than impressive.
Quick hitters

Greg Olsen suffers broken foot: Panthers tight end Greg Olsen left the team's game against Buffalo with a foot injury and did not return. He was seen on the sideline on crutches following the injury, and he said after the game that he had broken his foot and that he would miss "a lot of games."

Ravens guard Marshal Yanda lost for the year to broken leg: Jeff Zrebiec of the Baltimore Sun reports that Baltimore guard Yanda, a six-time Pro Bowler, has suffered a broken leg and will miss the rest of the season. That is a crushing loss for the 2-0 Ravens.

Another broken hand for Corey Coleman?: Coleman's rookie season was marred by a broken hand he suffered in Week 2, and that same scenario may have played out this year. According to the Cleveland Plain Dealer, the Browns fear that the wide receiver, a 2016 first-round pick, may have suffered a broken hand on a collision with Ravens cornerback Marlon Humphrey. The team also announced that linebacker Jamie Collins suffered a concussion.

Broncos' Bennie Fowler being evaluated for concussion: The Denver wide receiver hit his head on the turf while attempting to make a spectacular touchdown catch against the Cowboys. After getting up, Fowler twice stumbled to the ground before leaving the field, as Broncos medical personnel came out to attend to him.

Jordan Howard leaves with his arm in a sling: The Bears' running back, who was listed on the injury report last week with a shoulder, left the team's loss to the Buccaneers with his arm in a sling, according to Brad Biggs.

Where's Jimmy? Jimmy Johnson will not join Fox's "NFL Sunday" crew. He's cleaning up his home in Tavernier, in the middle Florida Keys, from the devastation of Hurricane Irma. Johnson, 74, teared up as he spoke of the losses in his beloved home with the Sun Sentinel's Dave Hyde last week, but he knows he's luckier than most. "Don't feel sorry for me," he said. "I can rebuild. I have the money. I feel bad for people who lost their house and don't know what to do. Those are the ones to feel sorry for, the ones who need help right now."

NFL Network's Ian Rapoport reported Sunday that the NFL's three Florida teams will wear a helmet decal that reads "One Florida."